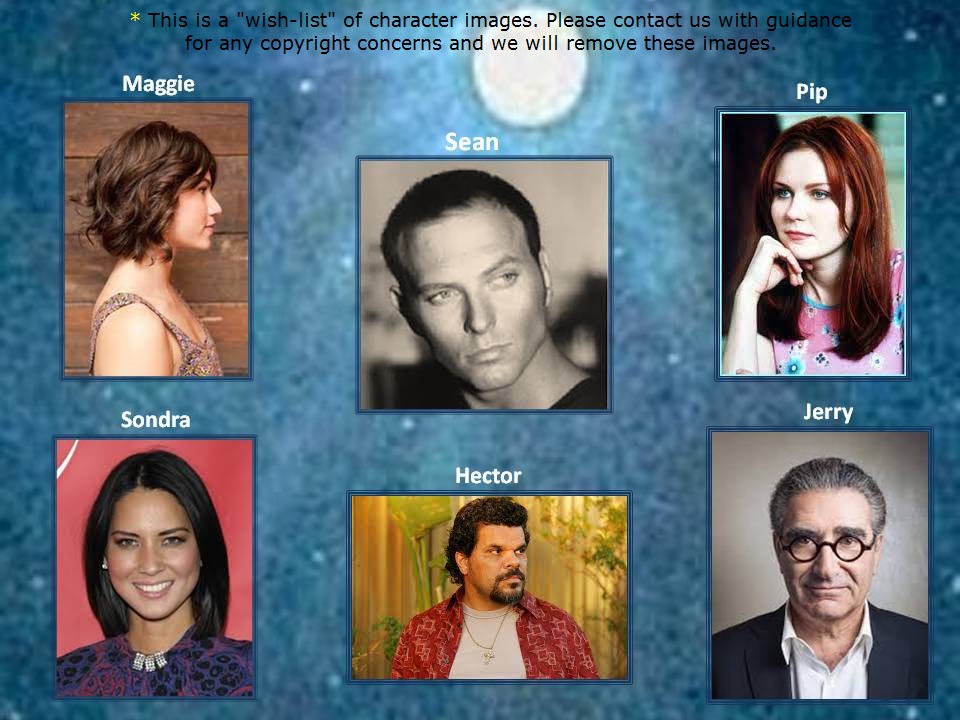 Pip Harrington: Avid equestrian and freelance musician, living in a small town in Kansas. Pip is a strong, independent woman who faces drastic personality challenges after a life-threatening illness.
Sean Ross: A stunt coordinator who moves to Los Angeles, California from London after becoming a celebrity actor. Sean is the product of foster homes and is seeking stability in his personal life amid the chaos of a fast-paced Hollywood lifestyle.
Maggie Kearney: Born and raised in South Africa, Maggie moves to Liverpool as a teenager and is bullied in school. Her shy, withdrawn personality blossoms under the irrefutable charms of Sean Ross.
Liam Kearney: A popular rugby player in school, Liam pursues work in a film production company in London, where he meets Sean Ross and later introduces him to his younger sister, Maggie.
Sondra: A feisty public health inspector living in Portland, Oregon. Sondra is Pip's best friend and confidant.
Jerry: The Beverly Hills business manager and agent for Sean Ross. Jerry's often frustrating relationship with Sean is both professional and fatherly.
Hector: Retired owner of a landscaping business, Hector proves to be a loyal friend and confidant to Sean - as well as a helping hand in tough times.